Hello everyone,
All the Playrion team is proud to announce the last update on web and mobile that will be available this week! Indeed, we'd like to end these summer holidays by unveiling the corrections and the new features that await to be discovered and will improve your experience as an airline CEO even more.
Without further delay, let's take a look at the main features on Mobile:
- on the world map, you'll just have to tap your in-flight aircraft to see them flying through the sky, by day and by night and from takeoff to landing. The interface has become clearer: no more need to search for the Wheel of TravelCards icon everywhere, its location is fixed and out of your hubs
Besides, you can now hide your routes simply by tapping a button, as it is for aircraft;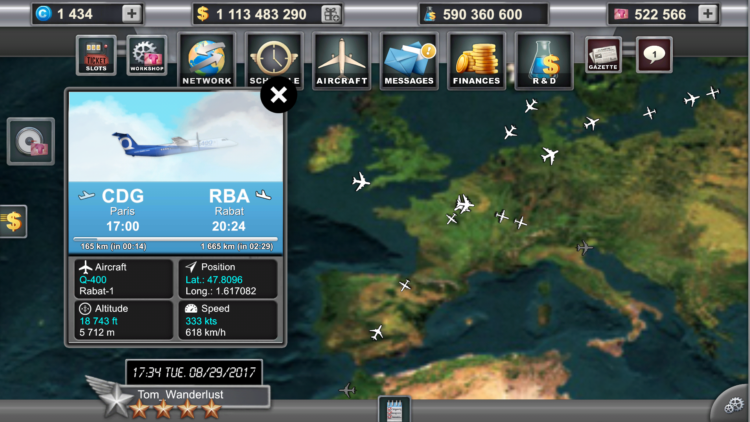 - the maintenance book has also evolved with a new chart showing the fluctuations of breakdown number and the average of all players to help you estimate your maintenance results compared to other CEOs;
- no more bad surprises, warnings have been added as "safety nets" to let you know if you are about to perform checks on too little worn / aged aircraft, take a too risky loan out or if your staff go on strike;
- fed up with paying your A Check repairs? It's time to repair your aircraft with Bob! For one month, Bob's repairs will be 3 times cheaper!
Now let's see what's new on the Web version:
- the brand new history of incidents of the maintenance book is equipped with new filters that allow you to make targeted searches. Like mobile, it comes with a chart to help you know where your company is placed among other companies of the same level in terms of breakdown number;
- last but not least, a long-awaited web-exclusive feature of group repairs optimization! No more need for switching back and forth between the filters page and the check recap page: from now on, you can not only adjust filters and see the check cost updating itself on the same page, but also select the aircraft model(s) you want to repair or restore. Cherry on the cake, a professional display mode of the breakdowns list is available for AM+ members;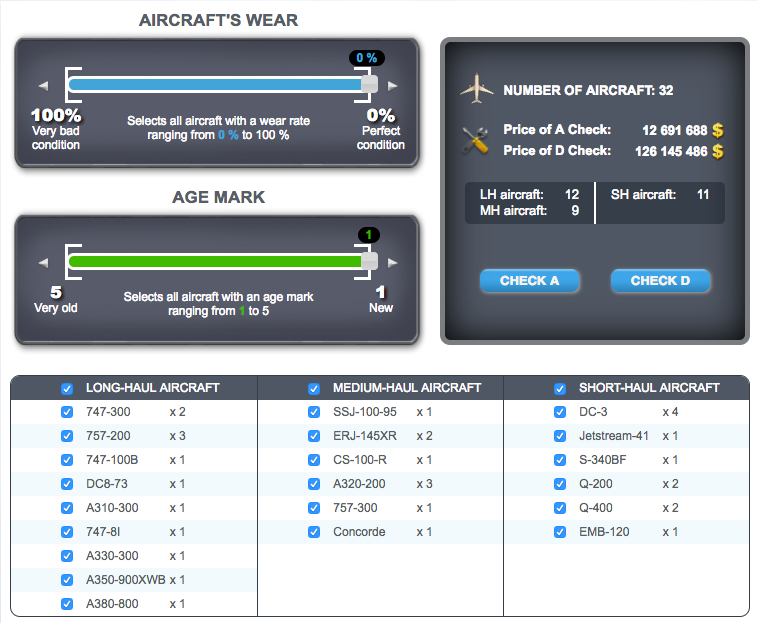 We hope you will enjoy those little features (which will be followed by another surprise very soon).
Good flights to everyone!