Hello everyone !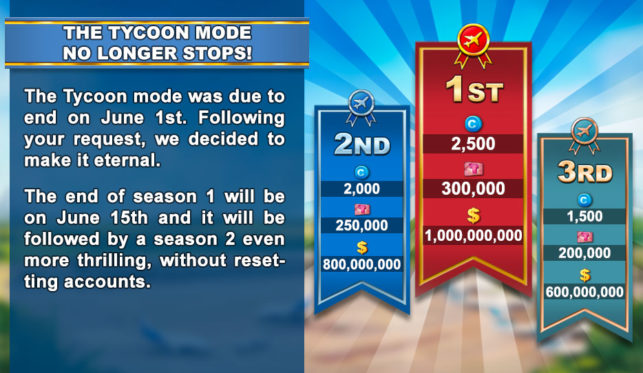 A) What is the new system?
1. The Tycoon becomes eternal. The system in which accounts would have been reset as initially planned is cancelled.
2. The system is replaced by a mechanism of successive seasons without airline reset.
3. This implies the introduction of a seasonal ranking and adding diverse rewards (badges and gifts in virtual currency) for the best players.
4. A new challenge for the new season: players who are first today will not necessarily be first tomorrow.
B) How is it going to happen in concrete terms?
There won't be account reset, but the end of a season followed by the start of a new season.
The last day of season 1 will be on June 14, 2018 whereas the first day of season 2 will be on June 15, 2018. During the transition to this new season, players will keep all their hubs, routes and aircraft.
This second season will last 6 months and a new ranking will be determined at the end of the season.
C) Why did we do that?
1. Several months ago, we asked you about Tycoon's future and the survey's results were clear. We understood you didn't want to start over with your airline after having invested considerable time in its development. Therefore, we decided to listen to you and act according to your request. As a result, we reviewed the system.
2. With this new format and new rules, we try to reward the best managers while enabling you to keep your airline without account reset in a consistent and reasonable way.
3. This new season system is also the opportunity for us to promote a system more open and more competitive that will reward players who will be the best managers and the most intelligent over the whole season while enabling newcomers on Tycoon mode to have a chance of being part of the competition. That's why we will introduce a new ranking system soon.
For the time being, you will find below the list of rewards for Tycoon 1st season.
These rewards will be granted according to the ranking of Structural Profits of the last 60 days (game time) stopped
on June 14, 2018, at 4:00 AM (UTC)
.
Rewards:
1st of the ranking:                         2500 AMC, 300 000 TC, 1 000 000 000 $
2nd of the ranking:                        2000 AMC, 250 000 TC, 800 000 000 $
3rd of the ranking:                        1500 AMC, 200 000 TC, 600 000 000 $
4th - 10th of the ranking:             1000 AMC, 175 000 TC, 500 000 000 $
11th - 50th of the ranking:            750 AMC, 150 000 TC, 300 000 000 $
51st - 250th of the ranking:          500 AMC, 100 000 TC, 250 000 000 $
251st - 500th of the ranking:        250 AMC, 80 000 TC, 100 000 000 $
Each player who participated to the season 1 of the Tycoon version will receive a badge.
10 first of the ranking: "Tycoon Winner" badge
11th - 500th of the ranking: "Tycoon Expert" badge
beyond the 501st of the ranking: "Tycoon Veteran" badge
More new features will be added to Airlines Manager Tycoon later!
The Playrion team